Latest Update
- 09 / 20 - Bakers are your bankers
New autumn colors!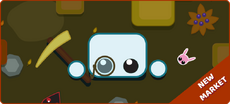 New market system
See the full changelog here!
Notes
- 10000 Edits in Total!!! -
We have reached 10000 Edits on the wiki! Thanks to all of you who has been participating on the wiki. Every single edit from these awesome people made this possible. Thanks for supporting Starve.io wiki, and have a nice time gaming!
Other Languages
- 7 Languages now available! -
Help us on Espanõl translating!
[ESPANÕL] (Upcoming)

[한국어] (Upcoming)
Ad blocker interference detected!
Wikia is a free-to-use site that makes money from advertising. We have a modified experience for viewers using ad blockers

Wikia is not accessible if you've made further modifications. Remove the custom ad blocker rule(s) and the page will load as expected.