Welcome To Starve.io Wikia!

We currently have 201 articles with 12,030 edits!
Latest Update
- 10 / 16 - ZOMBIES ARE STARVING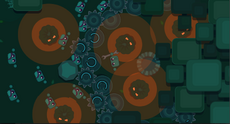 New Zombie Mode!
Altered recipes for well and pumpkin seeds.
Reset timer when switching sword/spear.
Added some sentences for the scoreboard.
See the full changelog here!
Notes
- Official Messages -
1. You cannot donate for beta anymore. You can still donate for the Patron discord role on Patreon, but you will not get any beta keys.
2. If a server's spawn points are blocked, please do not ask for staff members to restart it. Simply go play on a different server.
Other Languages
- 7 Languages now available! -
Help us on Espanõl translating!
[ESPANÕL] (Upcoming)

[한국어] (Upcoming)
Ad blocker interference detected!
Wikia is a free-to-use site that makes money from advertising. We have a modified experience for viewers using ad blockers

Wikia is not accessible if you've made further modifications. Remove the custom ad blocker rule(s) and the page will load as expected.